May 1 – 4, 2016: From our San Antonio accommodation, we were able to take the public bus downtown ($1.30 per person, about a 25 minute ride). We visited The Alamo – it was quite busy (it was Sunday) and it wasn't really my thing but was a decent lesson on the history of (now) Texas.
We then wandered along the River Walk and La Villita Historic Arts District before deciding it was appropriate to do the tourist thing and get a margarita the size of our head at one of the many restaurants along the San Antonio river.
The next day we did something more my style than The Alamo; a visit to the Japanese Tea Gardens. This free public park was smaller than I anticipated but it was still lovely to stroll the manicured grounds and gaze at the koi in the ponds. Be aware that private events might be scheduled that will limit access to sections of the park. An interesting fact about the park: it was renamed the Chinese Tea Garden after Pearl Harbor occurred and its original name of the Japanese Tea Gardens wasn't restored until the 1980s.
Before departing San Antonio we enjoyed lunch at Rosarios (order the Enchiladas de Mole!) and took care of a number of errands (grocery shopping, Lowe's, etc.).
Our destination for the night was Seminole Canyon State Park in Comstock, Texas and, along the drive, the landscape turned into a desertscape complete with cacti and rock formations. We went through a border control checkpoint due to the proximity to the Mexican border. The remoteness allowed for some great night skies too.
We spent the following full day at the park catching up on work and Camper Dan upgrades. Camper Dan got a new city water inlet (there was some pretty heavy back-spray happening when we hooked up) as well as the addition of new interior LED lights in the back. The lights are super disco – multi-color, dimmable, programmable, and include a remote. Michael thinks it is the finest upgrade yet. I think we might have a stroke if they ever get used.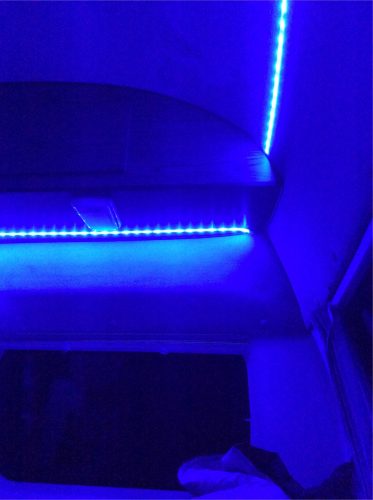 If we hadn't spent all day catching up on things, we would have checked out a six mile hike in the park that leads to petroglyphs and a view over the Rio Grande/Amistad Reservoir at the Mexico border. The park also offers a daily $5 ranger-led hike into the canyon to view petroglyphs.
Accommodation:
TIP: If camping isn't your style and you'd like to book in advance, check out these accommodation options in San Antonio.
TIP: The HotelTonight iOS app, Android app, or HotelTonight mobile website is great for locating last-minute deals in larger cities, such as San Antonio, around the world. Enter the promo code MMELLI for $25 off your first booking!